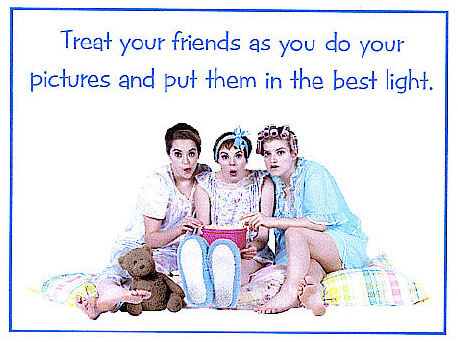 Each note card will have a different "girlfriend quote"
***************************

Memories last forever; pictures may not.
Friends are those with whom we feel
comfortable enough to think out loud.
We each take different paths in life, but
no matter where we go, we take a little
of each other, everywhere.
If I had a star for everytime you made me smile,
I'd have a whole night's sky in the palm of my hands.
Good friends come and good friends go,
but only the best friends stick around forever.
The only thing on this earth that will never die
is a memory and in our friendship
we have made so many.
You'll always be my best friend, you know too much.
Friendship is like a violin;
the music may stop now and then,
but the strings will last forever.
"I get by with a little help from my friends."
- John Lennon
It's the friends you can call up at 4am that really matter.
The best way to keep your friends is
not to give them away.
If only you could see the you that is a part of me,
maybe you could see inside yourself.
If you have more than one friend,
you have more than your share.